Reliable Pool Service in Mesa, AZ
The pool cleaning and maintenance experts that keep your backyard oasis refreshing and blue
As the seasons change, swimming pools need proper attention and maintenance to ensure they can provide fun in the sun for everyone. With the Arizona heat never truly winding down, it's important to keep your pool and spa ready for any weather. At Good Life Pool and Spa Care, we offer a range of services to provide the best experiences for everyone and keep your pool in working order.
From weekly pool cleanings and equipment upgrades to pool repairs and maintenance, the experts at Good Life Pool and Spa Care are your one-stop shop for taking care of your backyard paradise. We provide reliable service, exceptional customer satisfaction, top-of-the-line products, and more. Pool maintenance can be a hassle, but with Good Life Pool & Spa, it's never been easier. Enjoy your next outdoor celebration or commercial event beside a refreshing sea of blue.
Pool and Spa Goals, Achieved
Shaun is awesome! He's a very hardworking fella and always takes care of my pool like it's his. Have been using him for 2 years and will continue to do so! He's outstanding! I'd recommend to anyone in east valley!
Very professional and great to work with! Response time is immediate and Shaun was able to provide great advice on how to keep up with our pool in between servicing, which was greatly appreciated! 100% recommend this business!
We recently had Shaun replace our pool filter and repair some above ground plumbing issues. He provided us with a detailed quote up front and was able to return two days later to start the job. He completed the work in a few hours and was professional and tidy. I highly recommend Good Life Pool and Spa Care.
The Good Life Pool & Spa Care Difference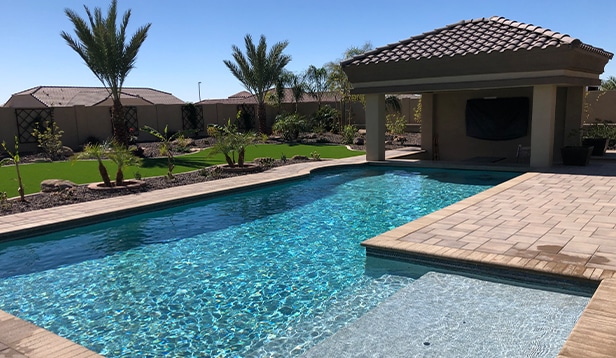 Providing Midwest Values in a Southwest Paradise
Arizona is home to dry heat, sweltering sunshine, and endless days without a cloud in the sky—there's no better place to enjoy the cool and refreshing waters of your backyard pool. With Good Life Pool and Spa Care repair, maintenance, and cleaning services, you can rest peacefully knowing your pool is in good hands.