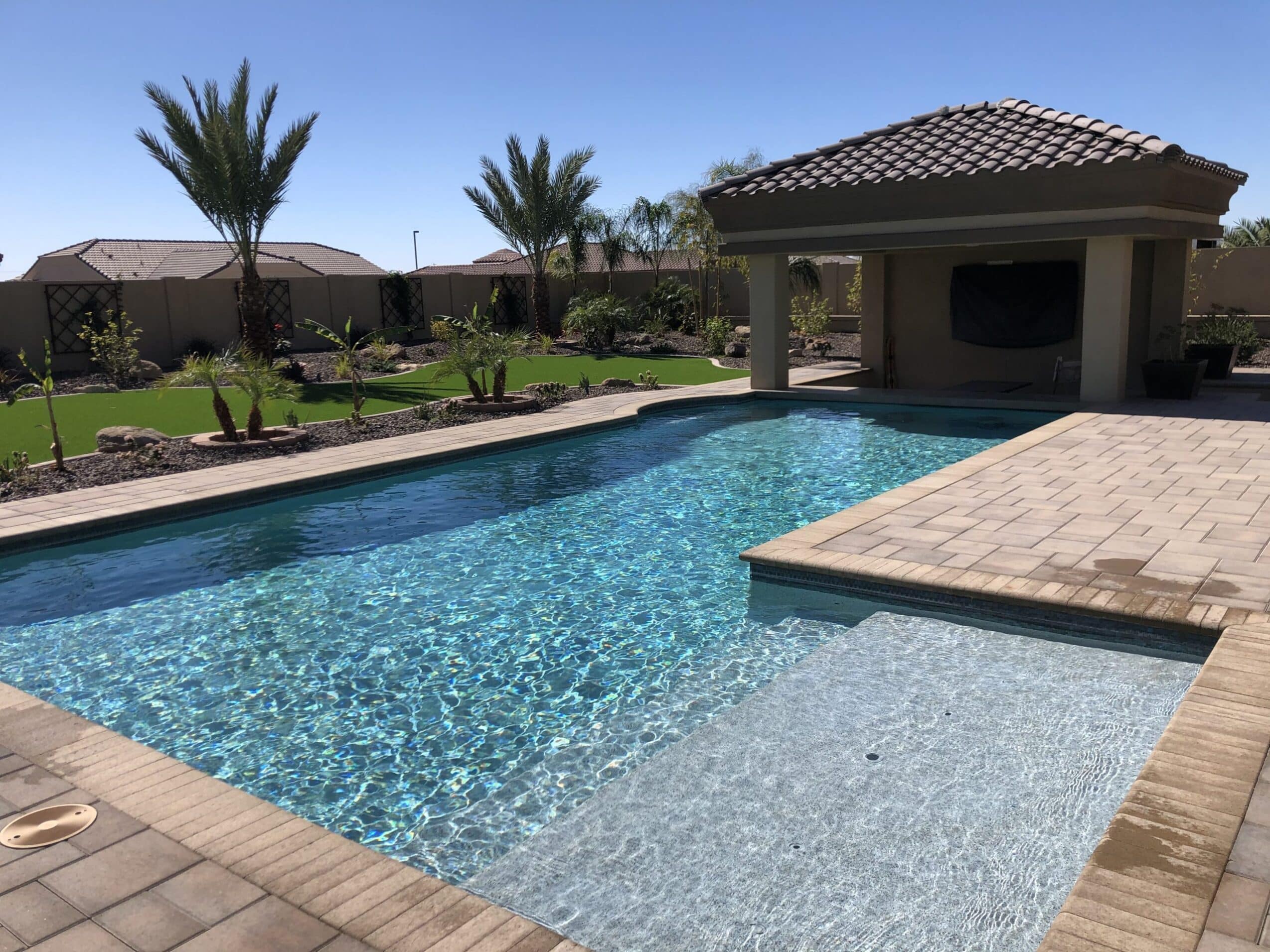 How Much Does Pool Service Cost?
Have a cannonball contest, cool off after a long day of work, or dip your toes in the water. However you prefer to enjoy your backyard swimming pool, it's crucial to maintain it properly. Your outdoor oasis is all fun and games until algae begins to grow, foggy water emerges, and your DIY attempts to clean the pool become costly. Thankfully, Good Life Pool Care offers elaborate pool cleaning services in Mesa, AZ and the surrounding areas. 
Before you hire a pool service provider, it's important to understand the costs associated with your pool. Here you'll find a detailed list of our pool service costs and a breakdown of the chemicals your pool so desperately needs. Let's take a look.
How Much Does Pool Service Cost?
Owning a pool is an exciting investment—you can enjoy the sunshine, let your kids splash around after school, and utilize your backyard space more often. But, with pool ownership comes the responsibility of taking care of it and ensuring it's in clear, pristine condition for swimming. This involves either tackling the maintenance yourself or hiring a professional to get the job done efficiently. The most common question we're asked at Good Life is how much pool service costs.
In 2023, residential pool services can range anywhere from $140 to $300 a month plus the cost of chemicals. The cost is based on:
Pool size

Water volume

Chemical usage

Equipment complexity (number of filters & pumps & automation)

Length of service (amount of time it will take to complete the job)

Service times per week
In previous years, when quoted for a pool service, the price would include everything from chemicals and service, to filter cleanings and more. Due to chemical shortages all over the United States and an influx of pricing, the Pool Industry has had to adapt and create a new type of pricing model that is fair for everyone. Your price should be based on YOUR pool, and YOUR chemical usage. Not on an industry "average" that may or may not be applicable to your situation. Meaning, you shouldn't have to pay for high chemical usage if you maintain healthy water and have low water usage. 
Why should you have to pay for the high chemicals usage of the guy down the street that has 5 pool parties each week and hasn't drained his pool in 15 years?. For this reason, Good Life Pool Care offers clients a PlusChems Model. Pay for what you use…That's it. This pricing method starts at a base rate of $140 per month plus chemicals, and filter cleans billed separately at $100-120. 
What Are the Main Chemicals Used in a Pool?
In order to keep your pool sparkling clean, chemicals must be professionally administered on an as-need-basis. Too much chlorine can leave your pool and bathing suit potently smelling of chemicals, and even turn your hair green! . High pH can cause high acidity in the water, which can lead to corrosion. The list of potential side effects is a mile long. At Good Life, we utilize the necessary chemicals to keep your pool healthy and communicate with you when and why we're implementing them:
Muriatic Acid
Muriatic acid is used to balance the pH levels of your pool water. It can also aid in the removal of rust stains and calcium deposits while cleaning the surface of your pool. This chemical costs around $10-12 a gallon.
Liquid Chlorine
Liquid chlorine is a popular chemical choice among pool owners. This powerful sanitizer kills bacteria, germs, and viruses, as well as oxidizes to keep your pool clear. Liquid chlorine can cost anywhere from $7-15 a gallon.
Sodium Bicarbonate
Sodium Bicarbonate works with the other chemicals in your pool to maintain a healthy alkalinity level. Without it, your pool water can become highly acidic, causing structural and mechanical damage. In terms of price, you can expect this chemical to cost $3-4 a pound.
Tri-Chlor Tabs
This Tri-Chlor based compound can be found in chlorine tablets and is the main sanitizer we use at Good Life for maintaining chlorine levels in each pool during the summer months. We sell 50 lb. buckets to each of our customers that equals about $2.30 per puck. In contrast, if you buy them individually at the store, you can expect to spend $6 to $8 each. 
How Much Are the Chemicals Going to Cost Every Month?
Determining chemical amounts each month depends on a variety of factors, including pool usage and weather. Since Arizona is such a scorching state in the summer months, Good Life uses more chemicals this time of year than the winter months. The sun's UV rays beat down from sun-up to sun-down, burning up the sanitizer at a much faster rate. For this reason, we could potentially use three to five times as much chlorine during the summer.
The following numbers are a rough estimate of what to expect in terms of total additional chemical costs each month:
December to March: $5 to $15

April to June: $10 to $25

July to September: $20 to $50

October to November: $10 to $20
Salt Cells can dramatically decrease this number as they produce their own sanitizer in the water. Feel free to ask us any questions you may have about upgrading your pool to a salt pool. 
Do Filter Cleanings Cost Extra?
Every pool owner should maintain the filter at least two times a year. Depending on the amount of excessive debris you've experienced or if your beloved family dog likes to take a dip from time to time, we recommend filter cleanings more frequently, at least 2-3 times per year. Filter cleanings are not included in your Good Life pool cleaning service and start at $100, and leave your filter as good as new. This service is offered for both DE and Cartridge filters. Backwashing your sand filter is included in your monthly base fee, and is not charged additionally. 
Good Life Pool Care: Keeping Your Pool Clean All-Year Round
At Good Life Pool Care, we like to be upfront and honest about our pricing. We understand there are other companies out there that may offer a cheaper rate, but when you work with us, you're getting more bang for your buck. Our technicians are CPO Certified and provide only the best in terms of chemicals and service. No cheap, inaccurate, strips for testing. No quick dissolving tabs, and no splash n' dash service. We want to keep you informed every step of the way and will walk you through why your pool needs the chemicals it does and how you can maintain it between cleanings.
Your pool is the source of your backyard fun and Good Life wants you to enjoy it all year long. If you've experienced an increase in algae or simply don't have the time to care for your pool, call us at (480) 269-5620 for a quote. We'll be happy to come take a look at your pool and discuss our pricing in more detail.
The Experts Are at Good Life Pool Care
Serving the Mesa, AZ area since 2019, Good Life Pool Care is proud to offer the most comprehensive quality pool services around. Our professionals know what it takes to maintain a pool's cleanliness and offer adequate pricing for the job we perform. Choose the company that's going to put your pool first, do honest work, and keep you informed—Choose Good Life Pool Care. Contact us today for more information about our pool maintenance and cleaning services.